Easy Banjo Ear Training 
Ear musicianship is largely misunderstood. Many people who believe they have no "ear for music" will always sing Happy Birthday to a friend or relative. Let's find some simple melodies.
---
Play the first four open banjo strings:
D – G – B – D
Add three notes, the E notes on the fourth and first strings and an A to the 3rd string:
D – E – G – A – B – D – E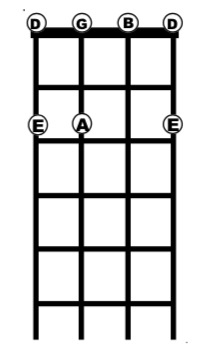 Play and hum these seven notes over and over. This is a called a pentatonic scale. Here are a few songs you can find and play in open G tuning. Start by strumming open G and then the starting note.
Amazing Grace – starting note 4th string.
Camptown Races – starting note 1st string.
Tom Dooley – starting note 4th string.
Old MacDonald – starting note 3rd string.
---
By adding three notes, C and F# to the 1st and 4th strings, you get a G major scale: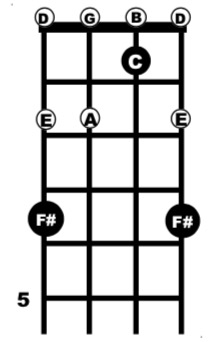 If you can sing it, then you can find it in the first five frets  on your banjo! Here are just a few familiar melodies that can be found in the first five frets along with their starting notes:
Auld Lang Syne – (4th string open)
Bile Dem Cabbage Down – (2nd string open)
Buffalo Gals – (3rd string open)
Crawdad Song – (3rd string open)
Darling Clementine – (3rd string open)
Good Night Ladies – (2nd string open)
Happy Birthday
I've Been Working On The Railroad – (3rd string open)
Jingle Bells – (2nd string open)
Lonesome Road Blues – (2nd string open)
Michael Row The Boat Ashore – (2nd string open)
Oh Susanna – (3rd string open)
Saints Go marching In – (3rd string open)
Yankee Doodle – (3rd string open)
You Are My Sunshine – (3rd string open)
Walking Cane – (4th string open)
Will The Circle Be Unbroken – (4th string open)
To learn more about the Pentatonic Scale see, "The Key To Five-String Banjo."
copyright©2021patcloud.com