Easy Banjo Ear Training 

Ear musicianship is largely misunderstood. Many people who believe they have no "ear for music" will always sing Happy Birthday to a friend or relative. Singing simple melodies is only one step away from finding them on your banjo. Use the musical instrument you know the best – your own voice!
To sing or whistle a melody and use the tried and true "hunt and peck" method to match a melody to your banjo is the easiest way practice. No tablature needed. Even if you believe you can't sing on pitch, let the banjo help you with your singing intonation. All melodies are fair game. First, let's start using the first four open banjo strings of G tuning:
D – G – B – D
Using your thumb, play each note a few times and then strum across to hear theG chord.
By adding just three more notes, the E notes on the fourth and first strings and an A to the 3rd string, you have this sequence:
D – E – G – A – B – D – E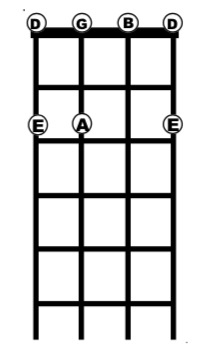 Play and hum these seven notes over and over. This is a called a pentatonic scale. Here are a few songs you can find and play in open G tuning. Start by strumming open G and then the starting note.
Amazing Grace – starting note 4th string.
Camptown Races (verse) – starting note 1st string.
Tom Dooley – starting note 4th string.
Old MacDonald – starting note 3rd string.
---
Now, by adding just three more notes, C and F# to the 1st and 4th strings, hundreds of melodies that can be found!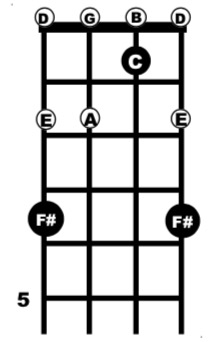 If you can sing it, then you can find it in the first five frets  on your banjo! Here are just a few familiar melodies that can be found in the first five frets along with their starting notes:
Auld Lang Syne – (4th string open)
Bile Dem Cabbage Down – (2nd string open)
Buffalo Gals – (3rd string open)
Crawdad Song – (3rd string open)
Darling Clementine – (3rd string open)
Good Night Ladies – (2nd string open)
Happy Birthday
I've Been Working On The Railroad – (3rd string open) Jingle Bells – (2nd string open)
Lonesome Road Blues – (2nd string open)
Michael Row The Boat Ashore – (2nd string open)
Oh Susanna – (3rd string open)
Saints Go marching In – (3rd string open)
Yankee Doodle – (3rd string open)
You Are My Sunshine – (3rd string open)
Walking Cane – (4th string open)
Will The Circle Be Unbroken – (4th string open)
To learn more about the Pentatonic Scale see, "The Key To Five-String Banjo."
copyright©2021patcloud.com